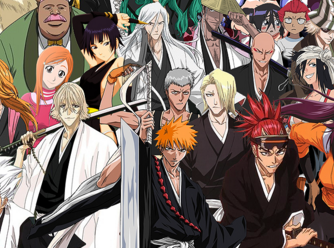 Bleach
[dc]B[/dc]leach remains one of the most popular anime's in history, as it has an enormous cast of interesting characters, set in a diverse, fascinating universe.
Main Character Bios
Ichigo Kurosaki
Ichigo is the main hero of Bleach. He's a cynical character with the power to talk to the dead and reap souls. He's a high school student with shocking orange hair and constantly gets himself into crazy situations. He wields the mighty Zangetsu.
Rukia Kuchiki
As the main heroine and original soul reaper, Rukia merely takes on the appearance of a teenage girl but is in reality, is hundreds of years old. She was forced to transfer her powers to Ichigo and now attends school as a normal human, but lives inside Ichigo's closest.
Uryū Ishida
Uryū is a "Quincy" or a Soul Reaper hunter. He can gather energies from the atmosphere and fashion various weapons (such as a bow) out of them. He turned from foe to friend after realizing that Ichigo isn't that harmful to humanity. He also possesses various other magical gifts and supernatural abilities.
Sōsuke Aizen
Sōsuke is the main villain in Bleach and plans to steal the power of the soul reapers so that he can kill the Soul King, lord of all the reapers.
Synopsis
Ichigo, a normal teenager suddenly gains the powers of life over death when Rukia cannot fulfill her duties as the primary soul reaper. This happens after she is injured in a battle with one of her foes, the Hollows. Later, Ichigo discovers that many of his classmates possess the powers of the soul reapers, such as strength and magical powers.
Rukia is sentenced to death at the Soul Society for misusing her powers in the human world therefore Ichigo seeks out his friends for help in order to go there and save her.
Once Ichigo makes it there, he discovers that she was framed all along by a powerful soul reaper, Sōsuke Aizen. Sōsuke framed her and has been experimenting on both Hollows and soul reapers in order to become the ruler of Soul Society with the powers of the Hōgyoku (the orb of distortion).
He escapes with Orihime and Ichigo is trained in the ways of the Soul Reapers so that he has the power to reach Sōsuke. Traveling to Hueco Mundo to find his captured friend,
Ichigo faces off against Èspadas, a specially trained army of ten who possess incredible strength. After beating them, Ichigo reaches Orihime only to find out it was all a distraction so that Karakura Town's spiritual energy could be captured, which holds enough power to summon the Oken, energy that can kill the Soul King. After Ichigo finds and trains with his father, he finally possesses enough power to take on Sōsuke and his group of Èspadas. Once he beats them, he loses his powers. Flash-forward two years and we discover that a group called the Fullbringers have enough energy to restore Ichigo's powers. Although this was a trick to steal what remained of his powers, Ichigo still defeats them and returns back to full power.
Bleach is an incredible, spiraling tale with many twists, turns and some fantastic animations. You've got to check it out!