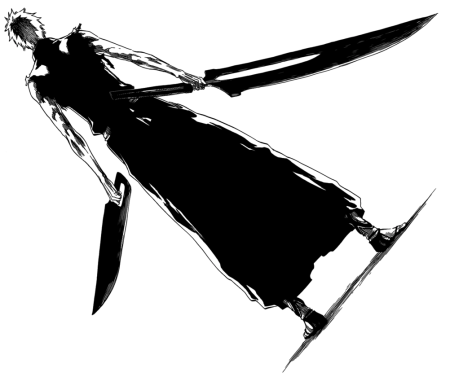 Ichigo's Zangetsu
Former Sword
Shikai: Zangetsu

Zangetsu is the sword used by Ichigo in the series Bleach. In its base form the sword appear to be a long huge black cleaver with one sharp edge. The hilt is wrapped with a white cloth allowing the sword to be thrown and reeled back to the user. Using this technique was first demonstrated by Ichigo's Hollow form.
Bankai: Tensa Zangetsu

In Bankai state Zangetsu actually shrinks in size and becomes the same form factor as a katana with a black blade and cross hilt. The sword is much lighter in this state and easier to wield without losing any cutting ability. In this state the Ichigo's clothes are also changed he goes from the standard shinigami outfit to an all-black outfit. 
Special Abilities (Former):Moon Fang Heaven-Piercer
Zangetsu's special ability and Ichigo's trademark move is called the Getsuga Tensho or Moon Fang. Zangetsu absorbs Ichigo's reiatsu concentrates it and releases it in a burst of energy at opponents. The wave of energy is white and blue in color. Furthermore the wave of is shaped like a cresent moon thus giving it the name. The "Black Moon Fang" is the Bankai variant of this sword the technique was originally used by Ichigo in his hollow form. In the series using this technique would make the hollow manifest and take over his body the more rapidly when the technique was used. This occurred up to the point he was able to control his hollow. The technique is a crescent wave of black with red highlights and is capable of large scale destruction.
True Sword
Shikai: Zangetsu

Later in the series Ichigo's sword breaks, thus discovering the sword he was actually wielding was not actually a zanpaktou made from an asauchi but a blade manifestation of is hollow and shinigami powers. A new sword is forged for him and becomes the true Zangetsu which is two separate black blades one is the shape of a Khyber knife extending out to his forearm. The other blade is smaller and appears to be more like a trench knife.
Bankai: Not yet revealed
Special Abilities: Getsuga Jujisho
Ichigo fires an amplified Getsuga Tensho with each blade which can be combined into a large cross of energy. Not too much has been revealed about this technique but its power is well beyond that of the regular moon fang.